Booking Commerce is an ultimate tool that helps you build up your own booking website & offer a better booking platform for the customers. It is a SAAS-based appointment scheduling & rental booking software using which you can empower your online booking business & get a boost to your online sales performance.
You might have used booking commerce to offer products or services on rent. With this booking platform, you can create unlimited bookings a per the booking scenarios. You can explore the six different booking types & opt for the one that best suits your business needs.
Talking about the rent type booking, it allows you to add bookings to products by creating slots. Customers will visit your website to rent the products/services by choosing the start date-time & end date-time as per their choice.
Booking Commerce has now come up with two very powerful features named Variations & Price Rule. Let's understand both of them one by one.
VARIATION
Till now, you had the option to simply display the products on front end & let the customers select a slot to book that product. There were no such cases of variations. By adding variations to products/service, you can allow users to choose more options and include them in their bookings.
Why does it require?
The booking products you offer to your website need a clear explanation with proper description. Some products you offer to your website may require other options that the customers might be looking for. We can provide such options simply by adding these variations.
Let's understand it in some instances.
Example 1: Offer Hotel Booking
In a hotel booking system, you can simply create date & time slots for customers that they will select at the time of booking. But is it sufficient for customers? Not exactly. In hotels, all rooms are not necessarily the same. Rooms may differ in size, space capacity, facilities provided, etc.
So, these things somewhere need to be shown on the front end for the customers. These options can be added as variations with the booking products so that customer can book slots by selecting these options as well.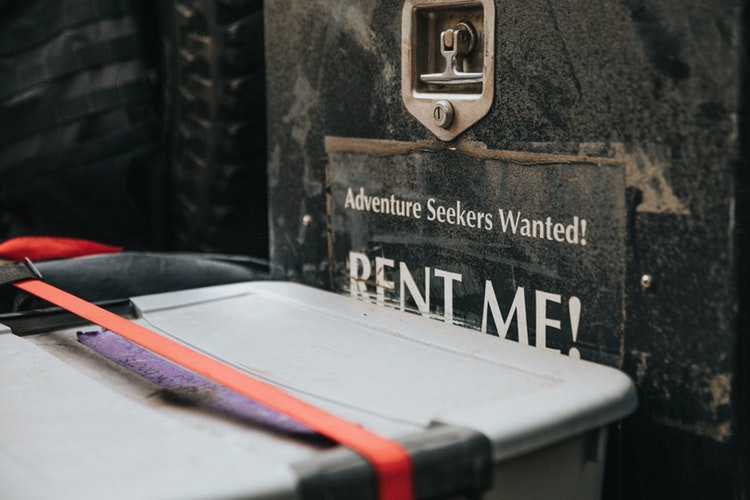 Let's take another example.
Example 2: Offer Bike on Rent
Suppose you offer bikes on rent. Your customers visit your website, select a start date-time & end date-time slot to rent a bike. Now, in case your customers want other accessories with the booking product such as helmet, gloves, sunglasses, etc, you can add these options as variations on the front end.
Thus, customers can easily choose more options with the booking product & include them in their bookings.
How to add variations?
You need to edit the booking product to add variations to it. For this, first, you need to add the options (option names & option values). Now, by clicking the Add Variation, You will be asked to enter Variation Details such as Variation Title & Price & enter the option details i.e select a value of each option added.
Adding Variations
Option for Customers on Front End:
PRICE RULE
Price Rule helps to produce more sales & more profit to your website.
Every booking product you offer need not have the same price for each customer every single day. You will have the full privileges to set price rules on products based on which price will be calculated on each booking.
Let's understand it with a real-life example.
Example 1: Suppose you run a hotel booking business. You have added a seasonal price of $100 per night for a maximum of 2 persons for room booking.
You want to add $20 in case the number of guests increased by 1.
In this scenario, you can set the price rule on this hotel booking service.
Resulting, $120 for 3 guests, $ 140 for 4 guests, $160 for 5 guests and so on for the same room booked in the hotel.
Let's understand with another example.
Example 2: Suppose you offer Water Park ticket booking service. You can set the ticket price in such a way that everyone is charged $100 on Monday, Tuesday, Wednesday, Thursday & Friday.
While on the Weekends-Saturday & Sunday, adults & children will be charged $50 to book the ticket i.e. 50% Off on Weekends exclusively for adults & children.
There can be a lot more scenarios one can have while offering an online booking service.
How to set the rules?
In Booking Commerce, You can set Price rules in 3 ways:
Weekdays
Date Range
Shift wise
Weekdays:- In this option, you can select the weekdays on which you want to vary the slot price. Now, you can enter a slot price as a fixed value or a percentage value or both as per your requirement.
▶️ If you enter a fixed value, then a fixed amount is set as the slot price of the product.
▶️ If you enter a percentage value, then a percentage amount will be calculated on the original slot price of the product and that will be the final slot price of the product.
▶️ In case you enter both fixed as well as percentage value, then, first the slot price will be the fixed amount & then, the final slot price will be the % of the fixed amount.
EXAMPLE:- Suppose you offer movie ticket booking service then, you can create a price rule in such a way that customers who book the tickets on Saturday & Sunday will have to pay the additional price that you set as a fixed or percentage amount. Thus, you can earn more on weekends.
Date Range:- In case you want to set a different price for your booking product on some specific date range, you can set a fixed price or percentage price or both for the slots.
EXAMPLE:- Suppose you offer Bridal Makeup Artists appointment bookings then, you can create a price rule in such a way that you can set a different slot price for some specific time interval.
Shift Wise:- In case you want to set a different price (either a fixed value or a percentage value or both) for some shift-wise slots then, you can create this price rule on that booking product.
EXAMPLE:-If you run a venue booking service & want to create a price rule in such a way that if someone is booking the slot in wedding season then, there will be a variation in the price of each slot created for that booking service.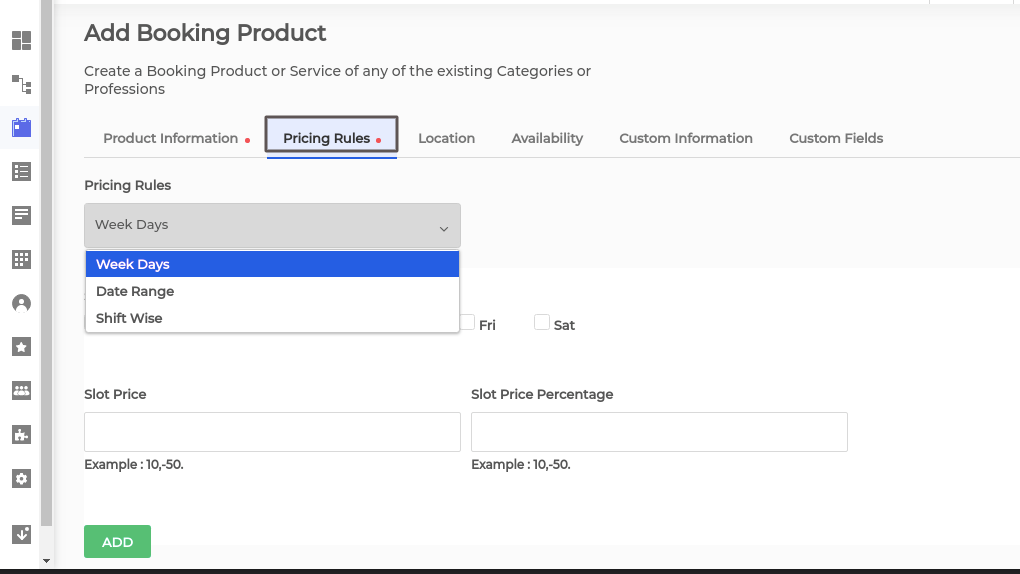 CONCLUSION
With the Variations feature, you can add variations to the booking products that come with multiple options. Thus, your customers will have multiple options to select with your booking product.
Additionally, with the price rule feature, you as an admin can charge different prices on different bookings done on your website. Thus, you can set rules & price will be calculated accordingly on each booking.
This was all about the Variations & Slot pricing Feature. Connect in case of any question.
Do write your suggestions in the comment section below.